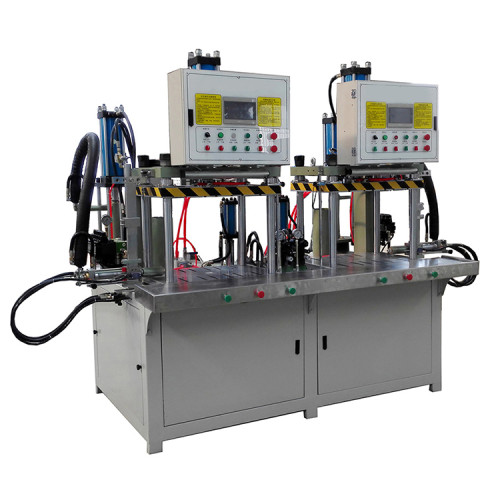 High Precision double station hydraulic wax injection machine
Description
Production Introduction and Application
1. The wax injection and preparation temperature control adopts the independent heating and cooling type of the insulation bucket, which makes the equipment more stable.
2. The device has dual molds (one person makes two molds, and the mold mouth is automatically positioned at the nozzle height), L pressure + secondary H pressure compensation shrink injection wax mode, H pressure + L injection wax mode, H pressure + L pressure + Secondary H-injection wax mode, automatic top mold function, and automatic core pulling function to adapt to the production of different types of molds.
3. The hydraulic system adopts the thick-walled copper tube direct cooling type, which avoids the safety hazard of hydraulic oil inflow caused by freezing of hydraulic oil cooler in the past.
4. The pressure plate and the workbench are each provided with 4 water cooling channels to facilitate the rapid cooling of the wax mold. The auxiliary workbench is provided with auxiliary water cooling.
5. Electrical control adopts 10-inch large-screen touch screen human-machine interface control to ensure easy operation and stable process parameter execution.
6. This machine uses an over-temperature trip circuit breaker. When the temperature probe is broken, the main circuit power can be cut off for secondary protection when the over-temperature trip temperature is reached to prevent the heat transfer oil temperature from getting out of control.
7. The processed parts of the press plate, worktable plate and nozzle advance and retreat of the wax injection machine are all chrome-plated.
8. With safety light curtain and anti-pressure hand protection.
9. With hydraulic oil over-temperature alarm function.
| | | | |
| --- | --- | --- | --- |
| | OBT08-2M | OBT16-2M | OBT20-2M |
| Pressure | 8T | 16T | 20T |
| | 500*460*385mm | 570*510*500mm | 620*510*600mm |
| Mold opening height | 385 | 500 | 600 |
| Worktable height | 960 | 960 | 960 |
| Max wax content | 3L | 5L | 5L |
| Wax injection pressure | 0-5MPa | 0-10MPa | 0-10MPa |
| Wax box volume | 100L | 100L | 100L |
| dimensions | 3310*1630*2060mm | 3380*1640*2290mm | 3480*1640*2540mm |