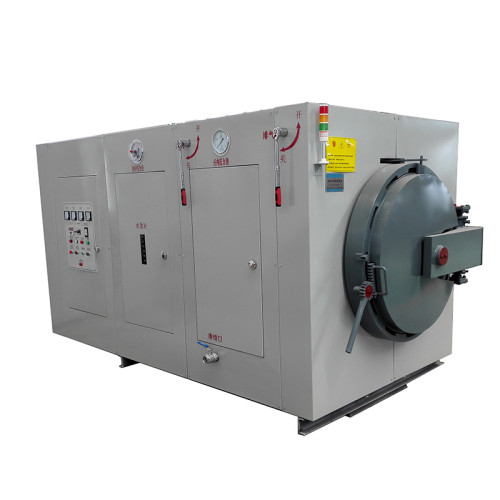 Lost wax casting production line electric heating dewaxing machine
Description
1) The equipment consists of the furnace body, kettle body, kettle door, water supply system, valve system, heating system, and electronic control system. The inner and outer tanks are made of boiler steel. The materials are in accordance with the national "Pressure Vessel Inspection Standard".
2) The kettle body adopts double gall type, the kettle door adopts ring-lock structure and U-shaped sealing ring.
3) The pressure in the furnace is controlled by automatic pressure, which effectively prevents shell cracks and greatly reduces energy consumption.
4) The water level is fully controlled by the most advanced sensing water level controller. The upper limit stops water supply and the lower limit stops heating operation. Make it reliable, safe to use and more energy efficient.
5) The device has a water alarm, an alarm when the dewaxing time is up, and the kettle door is closed.
6) The equipment comes with a complete pressure vessel qualification certificate and quality assurance certificate, which complies with national pressure vessel inspection standards.
7) Heat preservation treatment outside the kettle door to prevent burns.
8) The device comes with mechanical pressure protection, electrical pressure control and temperature control pressure protection, and automatically vent to the outside when the set safe pressure is reached.
9) Adopting touch screen + PLC intelligent control system, all actions are completed by a set of highly efficient pneumatic components, which reduces the labor intensity of the operator and realizes the automation and intelligence of the dewaxing process.
10) The device has manual, automatic and two operation modes. In manual mode, the safety logic interlock control of the intake valve, exhaust valve, wax exhaust valve and operation door, etc .; in the automatic mode, the door of the kettle can be automatically closed, locked closed, automatically intake and exhausted. , Wax removal, kettle door locked open, automatic door opening.
11) This equipment is a combination of an electric heating steam generator and a dewaxing kettle. It covers a small area and saves energy. The surface temperature of the working liner during dewaxing is above 150 ° C, which reduces the generation of distilled water.
12) Pressure balance of 0-0.6MPa can be completed in 5 seconds, which improves the quality of dewaxing, effectively prevents shell cracking and greatly reduces energy consumption.
13) With leakage protection switch.
14) The kettle door is not closed to prevent false flushing alarm.
15) Use stainless steel heating tube.
| | | | |
| --- | --- | --- | --- |
| Model | | OBT100-B | OBT120-B |
| Internal dimensions | Φ800*1000mm | Φ1000*1100mm | Φ1200*1400mm |
| Working pressure | 0.1~0.80Mpa | 0.1~0.80Mpa | 0.1~0.80Mpa |
| Design pressure | 0.85Mpa | 0.85Mpa | 0.85Mpa |
| Dewaxing time | 0-99min(Adjustable) | 0-99min(Adjustable) | 0-99min(Adjustable) |
| Power | 93KW | 123KW | 183KW |
| Dimensions | 2900*1800*2200mm | 3740*2000*2240mm | 3900*2160*2450mm |
| Weight | 2.0T | 3.4T | 4.2T |