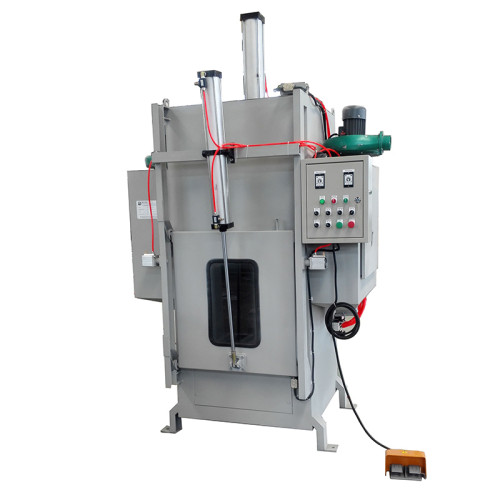 Investment casting equipment closed shock shell machine
Description
1. This machine uses Shenli B87C crusher to provide impact energy, and remote pneumatic electric control is used for impact operation.
2. The chassis of this machine is installed on the base of vibration-isolating cement to reduce ground-borne noise. At the same time, this machine uses a hood-type sound insulation and sound absorption system to completely isolate the equipment from the outside when vibrating the shell, block airborne noise, and make the ground Absorb vibration energy to ensure the working noise of this machine is less than 85dB
3. There is an automatic lifting door on the front side of the soundproof cover, an automatic cylinder goes up, and a safety locking device is also provided.
4. The lower slag mouth of the machine is tightly sealed by the side push of the cylinder.
5. This machine is equipped with a dust removal device to reduce dust pollution to the environment.
6. The worktable is 0 °, and the vibration is relatively stable.
7. The whole machine is welded with section steel and hot-rolled steel to ensure high strength and low vibration noise.
| | |
| --- | --- |
| Model | OBT-B87C |
| Impact energy | 100J |
| Impact frequency | 18HZ |
| working pressure | ≥0.63MPa |
| Table size | 500*500mm |
| Dimensions | 1960*1510*2960mm |
| Weight | 845KG |