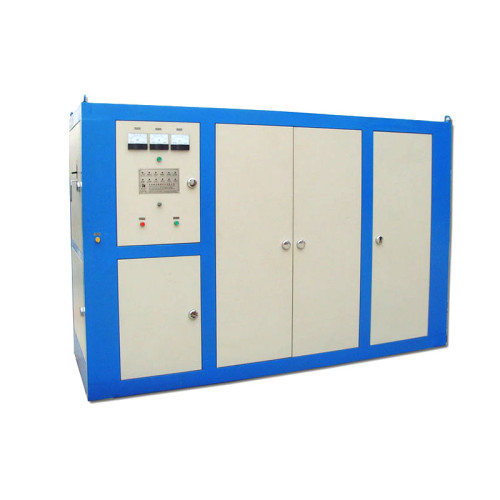 Metal stainless steel electric induction melting furnace
Description
1. High efficiency: The series inverter method is used to increase the voltage and frequency of the furnace body and greatly improve the melting speed. After each time out of the furnace, there is no need to leave molten steel. From feeding to melting, the whole process runs at full power.
2. Energy saving: This product adopts series inverter technology, which makes the main circuit of the furnace body small in current, high in voltage, and reduced the heat generation of the copper bar, which improves the utilization of electrical energy; the melting time is short, the energy loss time is reduced, and the energy is more energy-saving. Electricity consumption per ton of molten steel is about 600 degrees, which is about 240 degrees less than that of an ordinary intermediate frequency furnace.
3. In terms of control of equipment, the chain closed-loop control method is used to monitor the operation of the equipment to reduce the possibility of failure to a minimum.
4. This equipment adopts series inverter and rectification does not need to adjust the voltage, which greatly reduces the control circuit and reduces the failure rate.
5. The main circuit components such as air circuit breakers, thyristors and diodes are all imported brand-name products. The support of high-quality components further improves the reliability of the equipment.
6. Water cooling in the control cabinet uses pure water (distilled water) circulation, and the internal circulation is not easy to scale. Each water cycle is monitored by a temperature switch.
7. This machine adopts the integrated circuit Pc main control, and the main control board (100% aging test before the machine is installed) is installed in a closed box with air cooling to ensure the reliable operation of the "brain" for a long time.
8. Reliable power control, high and low frequency limits, internal water temperature, internal water pressure, external water temperature, external water pressure, SCR poor control, furnace switching and other functional protections make the electric furnace work more stable.
9. The internal and external circulating water pipes and water-cooled cables are made of high-quality high-temperature-resistant rubber hoses to ensure the stability of the equipment.
10. The water-cooled cable connector of the host is facing down to facilitate the user to replace the water-cooled cable.
11. The external cooling water inlet and return pipeline of the furnace and the plate heat exchanger inlet and return pipeline cabinet are combined into one, which is convenient for users to connect external circulating water.
12. The induction coil is made of square copper tube, with large contact area, high power conversion efficiency, high molten steel melting efficiency and reducing the possibility of blocking the induction coil.
| | | | | |
| --- | --- | --- | --- | --- |
| | OBT-175/3 | OBT-225/3 | OBT-250/3 | OBT-270/3 |
| Power | 175KW | 225KW | 250KW | 270KW |
| voltage | 380V | 380V | 380V | 380V |
| Phase | 3Phase | 3Phase | 3Phase | 3Phase |
| Rated working frequency | 3000HZ | 3000HZ | 3000HZ | 3000HZ |
| Max temperature of molten steel | 1750℃ | 1750℃ | 1750℃ | 1750℃ |
| Rated capacity | 100KG | 150KG | 200KG | 300KG |
| Cabinet size | 2440*940*1850mm | 2840*1040*1850mm | 2840*1040*1850mm | 2840*1040*1850mm |