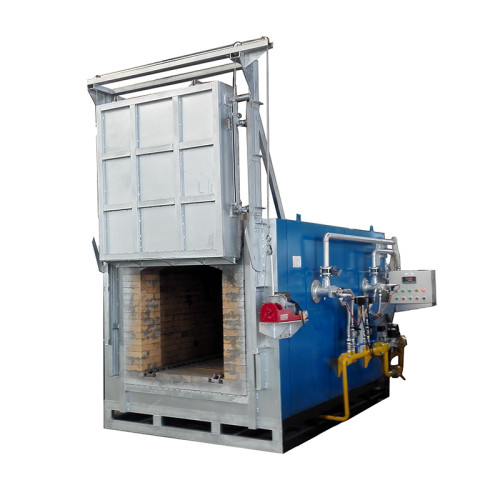 Oil gas fired aluminum melting induction heating furnace
Description
1) The furnace wall is made of mullite brick, the top is zirconium-aluminum fiber blanket, the bottom of the furnace is made of silicon carbide cover, and the thickness of the furnace wall is 400mm.
2) The normal service life of silicon carbon rod is more than six months.
3) The heating method of top + bottom silicon carbon rod is adopted, which has the characteristics of safety, environmental protection, energy saving, easy operation, extremely low maintenance costs, and good quality of the baking mold shell.
4) Intelligent PID programming instrument control, the main circuit uses a thyristor module to control the heating output, which heats up fast and is economical and fast.
5) The outer wall of the furnace is welded with steel plates, and the thickness of the steel plates is ≥4mm. The whole is strong, firm, durable, and reliable. All welds are even and smooth, and there are no defects such as pores, slag inclusion, and non-fusion. The appearance of the furnace body is straight and beautiful, without wrinkles or unevenness. The outside of the furnace body is brushed with primer twice and topcoat twice according to relevant standards. The color standard is selected according to the industry standard or Party A's factory standard, and high temperature resistant paint is used for key parts.
6) The furnace door is composed of a steel structure shell and a full fiber lining. The shell is welded with profiled plates, and the thermal condition of the overall frame ensures no deformation and is durable. The lining body is made of high-aluminum fiber blanket folding blocks, and the manufacturing method of the folding blocks is the same as that of the furnace order lining body. Guarantee its long life.
7) The furnace door lifting system adopts electric hoist wire rope structure.
8) The furnace is provided with a flue, which leads to the chimney behind the furnace.
| | | | | |
| --- | --- | --- | --- | --- |
| Model | OBT11-1.5m² | OBT11-1.8m² | OBT11-2.1m² | OBT11-2.4m² |
| Hearth area | 1.5m² | 1.8m² | 2.1m² | 2.4m² |
| Work area | 1200*1300*700mm | 1350*1400*700mm | 1300*1620*700mm | 1600*1500*700mm |
| Furnace door size | 770*700mm | 800*700mm | 800*700mm | 800*700mm |
| Max TEMP | 1200℃ | 1200℃ | 1200℃ | 1200℃ |
| Dimensions | 3080*3030*3110mm | 3360*3190*3320mm | 3310*3390*3320mm | 3550*3300*3500mm |
| Power | 2.2KW*2 | 3KW*2 | 3KW*2 | 3KW*2 |