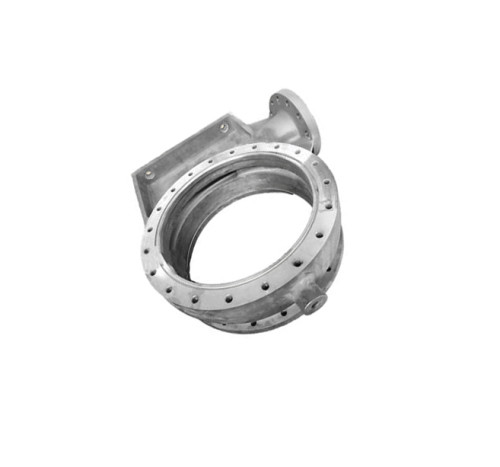 STAINLESS STEEL INVESTMENT CASTING PUMP BODY
Item specifics
Material

Stainless Steel AISI 316 / CF8M
Casting Manufacturing

Investment Casting + CNC Machining
Application

Pump Body
Heat Treatment

Annealing + Solution
Description
OEM custom stainless steel casting pump body with CNC machining services and heat treatment services from China casting foundry.
Stainless steel has a minimum Cr content of 11.5%, and other alloy elements such as Ni and Mo, making it more resistant to corrosive liquid environments and to oxidation. It has high corrosion resistant and wear resistant performances, provides excellent machinability, and is also well-known for its aesthetic appearance. Stainless steel investment castings are "corrosion-resistant" when used in liquid environments and vapors below 1200°F (650°C) and "heat-resistant" when used above this temperature.
Silica sol casting process is the main steel investment casting process of RMC investment casting foundry. We have been developing new technology of adhesive material to achieve much more economical and effective adhesive material to build the slurry shell. It is a overwhelming trend that Silica sol casting process replaces the rough inferior water glass process, especially for stainless steel casting and alloy steel casting. Besides the innovated molding material, the silica sol casting process has also being innovated to much steadier and less heat expanding.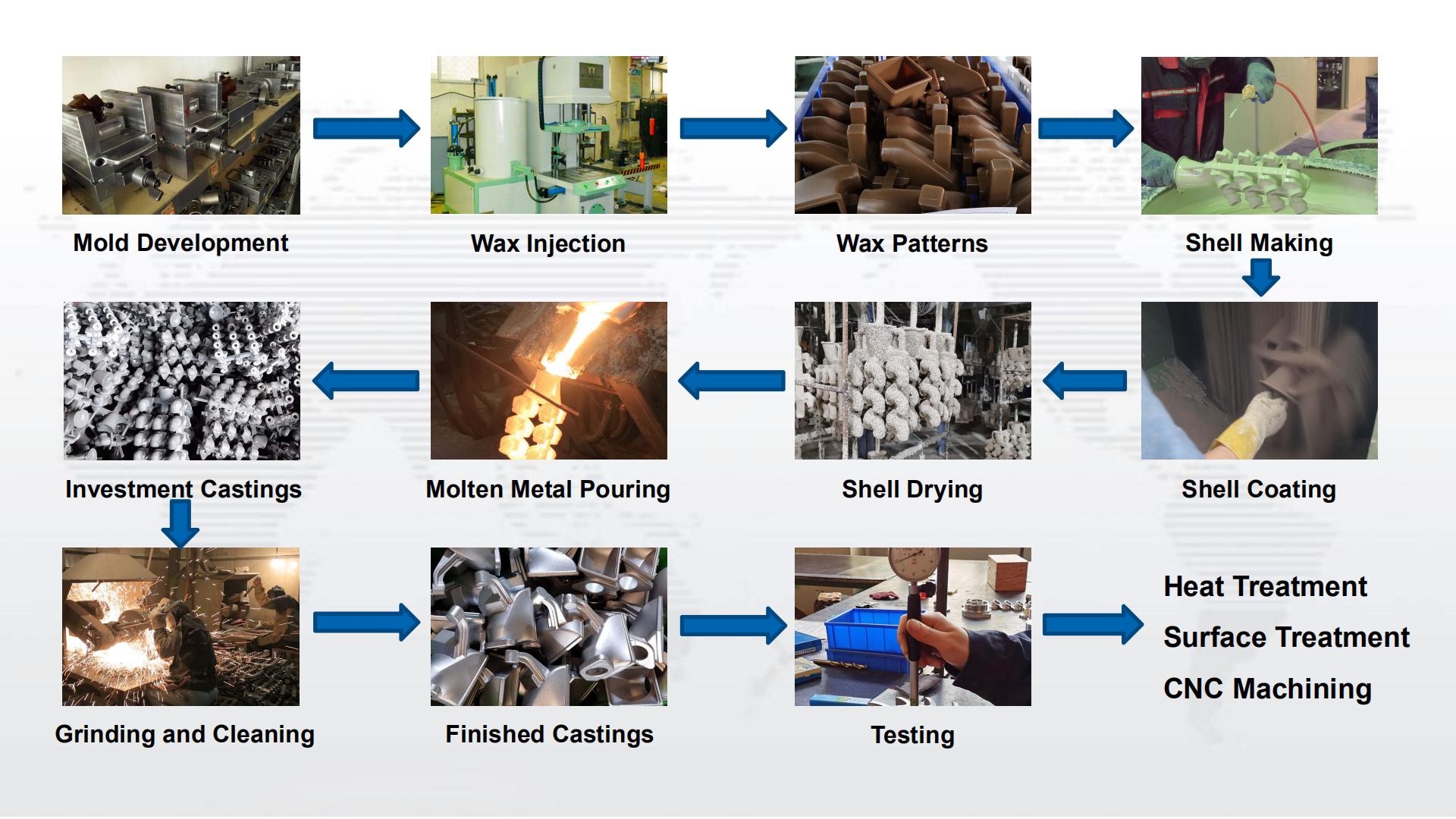 Materials for Investment Casting Process at RMC Foundry

Category

China Grade

US Grade

Germany Grade

Ferritic Stainless Steel

1Cr17, 022Cr12, 10Cr17,

430, 431, 446, CA-15, CA6N, CA6NM

1.4000, 1.4005, 1.4008, 1.4016, GX22CrNi17, GX4CrNi13-4

Martensitic Stainless Steel

1Cr13, 2Cr13, 3Cr13, 4Cr13,

410, 420, 430, 440B, 440C

1.4021, 1.4027, 1.4028, 1.4057, 1.4059, 1.4104, 1.4112, 1.4116, 1.4120, 1.4122, 1.4125

Austenitic stainless steel

06Cr19Ni10, 022Cr19Ni10,




06Cr25Ni20, 022Cr17Ni12Mo2, 03Cr18Ni16Mo5

302, 303, 304, 304L, 316, 316L, 329, CF3, CF3M, CF8, CF8M, CN7M, CN3MN

1.3960, 1.4301, 1.4305, 1.4306, 1.4308, 1.4313, 1.4321, 1.4401, 1.4403, 1.4404, 1.4405, 1.4406, 1.4408, 1.4409, 1.4435, 1.4436, 1.4539, 1.4550, 1.4552, 1.4581,




1.4582, 1.4584,

Precipitation Hardening Stainless Steel

05Cr15Ni5Cu4Nb, 05Cr17Ni4Cu4Nb

630, 634, 17-4PH, 15-5PH, CB7Cu-1

1.4542

Duplex Stainless Steel

022Cr22Ni5Mo3N, 022Cr25Ni6Mo2N

A 890 1C, A 890 1A, A 890 3A, A 890 4A, A 890 5A,




A 995 1B, A 995 4A, A 995 5A, 2205, 2507

1.4460, 1.4462, 1.4468, 1.4469, 1.4517, 1.4770

High Mn Steel

ZGMn13-1, ZGMn13-3, ZGMn13-5

B2, B3, B4

1.3802, 1.3966, 1.3301, 1.3302

Tool Steel

Cr12

A5, H12, S5

1.2344, 1.3343, 1.4528, GXCrMo17, X210Cr13, GX162CrMoV12

Heat Resistant Steel

20Cr25Ni20, 16Cr23Ni13,




45Cr14Ni14W2Mo

309, 310, CK20, CH20, HK30

1.4826, 1.4828, 1.4855, 1.4865

Nickle-base Alloy

HASTELLY-C, HASTELLY-X, SUPPER22H, CW-2M, CW-6M, CW-12MW, CX-2MW, HX(66Ni-17Cr), MRE-2, NA-22H, NW-22, M30C, M-35-1, INCOLOY600,




INCOLOY625

2.4815, 2.4879, 2.4680

Aluminum




Alloy

ZL101, ZL102, ZL104

ASTM A356, ASTM A413, ASTM A360

G-AlSi7Mg, G-Al12

Copper Alloy

H96, H85, H65, HPb63-3,




HPb59-1, QSn6.5-0.1, QSn7-0.2

C21000, C23000, C27000, C34500, C37710, C86500, C87600, C87400, C87800, C52100, C51100

CuZn5, CuZn15, CuZn35, CuZn36Pb3, CuZn40Pb2, CuSn10P1, CuSn5ZnPb, CuSn5Zn5Pb5

Cobalt-base Alloy

UMC50, 670, Grade 31

2.4778