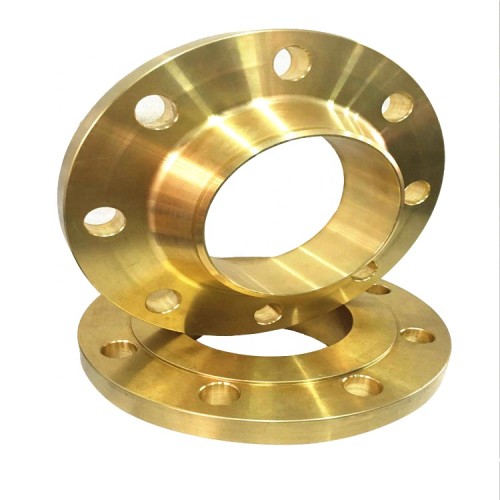 CUSTOM INVESTMENT CASTING BRASS FLANGE
Item specifics
Cast Metal

Brass, Bronze and other Copper Alloy
Casting Process

Investment Casting + CNC Machining
Application

Flange
Heat Treatment

Annealing
Description
OEM custom brass casting flange and other investment casting brass components play an important role as bearing bushings, gears, valve and pump bodies, water pipes and other mechanical ndustries which need performance of corrosion resistance and wearing resistance.
As the most used copper-based alloy, brass can be formed into highly complex casting parts, making them ideal for the investment casting process. Constant cost fluctuations can make these materials very price sensitive, making waste very costly, especially when considering CNC machining and/or forging as a manufacturing process to produce your cast parts. However, pure copper is not usually cast. Casting brass has higher mechanical properties than bronze, but the price is lower than bronze.
Brass is an alloy composed of copper and zinc. Brass composed of copper and zinc is called ordinary brass. If it is a variety of alloys composed of more than two elements, it is called special brass. Brass is a copper alloy with zinc as the main element. As the zinc content increases, the strength and plasticity of the alloy increase significantly, but the mechanical properties will decrease significantly after exceeding 47%, so the zinc content of brass is less than 47%. In addition to zinc, cast brass often contains alloying elements such as silicon, manganese, aluminum, and lead.
What Brass and Bronze We Cast
• China Standard: H96, H85, H65, HPb63-3, HPb59-1, QSn6.5-0.1, QSn7-0.2

• USA Standard: C21000, C23000, C27000, C34500, C37710, C86500, C87600, C87400, C87800, C52100, C51100

• European Standard: CuZn5, CuZn15, CuZn35, CuZn36Pb3, CuZn40Pb2, CuSn10P1, CuSn5ZnPb, CuSn5Zn5Pb5
Available Metal and Alloys for Different Casting & Manufacturing Processes

MANUFACTURING PROCESS

MATERIAL

Sand Casting

Green Sand Casting

Grey Cast Iron, Ductile Cast Iron, Malleable Iron, Stainless Steel, Carbon Steel, Alloy Steel, Aluminum Alloy, Brass, etc

Resin Coated Sand Casting

Investment Casting (Lost Wax Casting)

Water glass Investment Casting

Carbon Steel, Alloy Steel, Stainless Steel, Duplex Stainless Steel, Cast Iron, Brass, Aluminium and other alloys

Silica Sol Investment Casting

Lost Foam Casting

Ductile Cast Iron / Grey Cast Iron

ASTM 60-40-18 / 65-45-12 / 80-55-06 / 100-70-03

Carbon steel, Hi-Mn steel, Hi-Cr steel

Austempering Ductile Iron (ADI)

Heat Resistant Steel / Wear Resistant Steel

Vacuum Casting (V Process Casting)

Ductile iron GGG 40 to GGG 80 / Grey Iron

ASTM 60-40-18 / 65-45-12 / 80-55-06 / 100-70-03

Carbon steel, Hi-Mn steel, Hi-Cr steel

Austempering ductile iron

Heat resistant steel / Wear resistant steel / Stainless Steel

Forging

Open Forging

Stainless Steel, Carbon Steel, Alloy Steel, Brass, Aluminum

Die Forging

Roll Forging

Die Casting

High Pressure Die Casting

Aluminum, Zinc, Brass

Low Pressure Die Casting

Gravity Pressure Die Casting

Surface Treatment Services

Powder Coating, Anodization, Electrophotesis, Chrome Plating, Painting, Sand blasting, Nickel Plating, Zinc Plating, Blacking, Polishing, Bluing, Geormet, Zintek, etc.

CNC Precision Machining Services

Lathing, Milling, Turning, Honing, Drilling, Boring, Tapping, Wire Electrode Cutting, Grinding...etc.

Inspection and Quality Control

Spectrum Analyzer, CMM, Hardness Tester, Tensile Strength Tester, Yild Strentgh Testor, Sealing Pressure Tester, Carbon Sulfur Analyzer, Metallurgical Microscopy, Press Force Tester...etc.