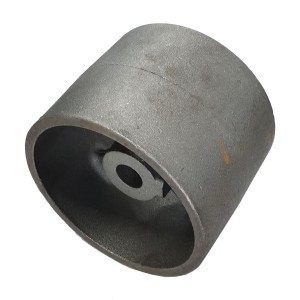 GREY CAST IRON PULLEY BY SAND CASTING
Item specifics
Casting Metals

Grey Cast Iron, GG20 / GG25, EN-GJL-200 / 250
Casting Manufacturing

Resin Coated Shell Mold Casting
Main Materials

Ferrous Metal, Non-Ferrous Metal
Surface Treatment

Shot Blasting, Sand Blasting, Satin, Polishing
Heat Treatment

Annealing, Normalizing, Quenching, Tempering,
CNC Machining

Available by CNC Machines and Machining Centers
Testing

Dimensional Inspection, Chemical Composition,
Engineering Service

OEM / ODM
Price Terms

FOB (FCA), CFR, CIF, DDU, DDP
Description
Custom grey cast iron shell mold castings with services of heat treatment and surface treatment.
Shell molding casting process is also called pre-coated resin sand casting process, hot shell molding castings or core casting process. The main molding material is the pre-coated phenolic resin sand, which is more expensive than green sand and furan resin sand. Moreover, this sand can not be recycle used.
Furan resin self-hardening sand casting process (nobake process) uses the furan resin coated sand to form the casting mold. After mixing the original sand (or reclaimed sand), liquid furan resin and liquid catalyst evenly, and filling them into the core box (or sand box), and then tighten it to harden into a mold or mold in the core box (or sand box) at room temperature. Then the casting mould or casting core were formed, which is called self-hardening cold-core box molding (core), or self-hardening method (core).
Because the mold is formed at room temperature and no need to heat, the self-hardening sand casting is also called no-bake casting process. The self-hardening method can be divided into acid-catalyzed furan resin and phenolic resin sand self-hardening method, urethane resin sand self-hardening method and phenolic monoester self-hardening method.
As a self-hardening cold box binder sand, furan resin sand is the earliest and currently most widely used synthetic binder sand in Chinese foundry. The amount of resin added in molding sand is generally 0.7% to 1.0%, and the amount of added resin in core sand is generally 0.9% to 1.1%. The content of free aldehyde in furan resin is below 0.3%, and some factories have dropped to below 0.1%. In the foundries in China, the furan resin self-hardening sand has reached the international level regardless of the production process and the surface quality of the castings.
Gray iron, or grey cast iron, is a type of cast iron that has a graphite microstructure. It is named after the gray color of the fracture it forms. The gray cast iron is used for housings where the stiffness of the component is more important than its tensile strength, such as internal combustion engine cylinder blocks, pump housings, valve bodies, electrical boxes, counter weights and decorative castings. Grey cast iron's high thermal conductivity and specific head capacity are often exploited to make cast iron cookware and disc brake rotors.
A typical chemical composition to obtain a graphitic microstructure is 2.5 to 4.0% carbon and 1 to 3% silicon by weight. Graphite may occupy 6 to 10% of the volume of grey iron. Silicon is important to making grey iron as opposed to white cast iron, because silicon is a graphite stabilizing element in cast iron, which means it helps the alloy produce graphite instead of iron carbides; at 3% silicon almost no carbon is held in chemical combination with the iron.
The graphite takes on the shape of a three-dimensional flake. In two dimensions, as a polished surface will appear under a microscope, the graphite flakes appear as fine lines. The tips of the flakes act as preexisting notches; therefore, it is brittle. The presence of graphite flakes makes the Grey Iron easily machinable as they tend to crack easily across the graphite flakes. Grey iron also has very good damping capacity and hence it is mostly used as the base for machine tool mountings.
Mechanical Properties of Gray Cast Iron

Item according to DIN EN 1561

Measure

Unit

EN-GJL-150

EN-GJL-200

EN-GJL-250

EN-GJL-300

EN-GJL-350

EN-JL 1020

EN-JL 1030

EN-JL 1040

EN-JL 1050

EN-JL 1060

Tensile Strength

Rm

MPA

150-250

200-300

250-350

300-400

350-450

0.1% Yield Strength

Rp0,1

MPA

98-165

130-195

165-228

195-260

228-285

Elongation Strength

A

%

0,3 – 0,8

0,3 – 0,8

0,3 – 0,8

0,3 – 0,8

0,3 – 0,8

Compressive Strength

σdB

MPa

600

720

840

960

1080

0,1% Compressive Strength

σd0,1

MPa

195

260

325

390

455

Flexural Strength

σbB

MPa

250

290

340

390

490

Schuifspanning

σaB

MPa

170

230

290

345

400

Shear Stress

TtB

MPa

170

230

290

345

400

Modules of elasticity

E

GPa

78 – 103

88 – 113

103 – 118

108 – 137

123 – 143

Poisson number

v

–

0,26

0,26

0,26

0,26

0,26

Brinell hardness

HB

160 – 190

180 – 220

190 – 230

200 – 240

210 – 250

Ductility

σbW

MPa

70

90

120

140

145

Tension and pressure change

σzdW

MPa

40

50

60

75

85

Breaking Strength

Klc

N/mm3/2

320

400

480

560

650

Density

g/cm3

7,10

7,15

7,20

7,25

7,30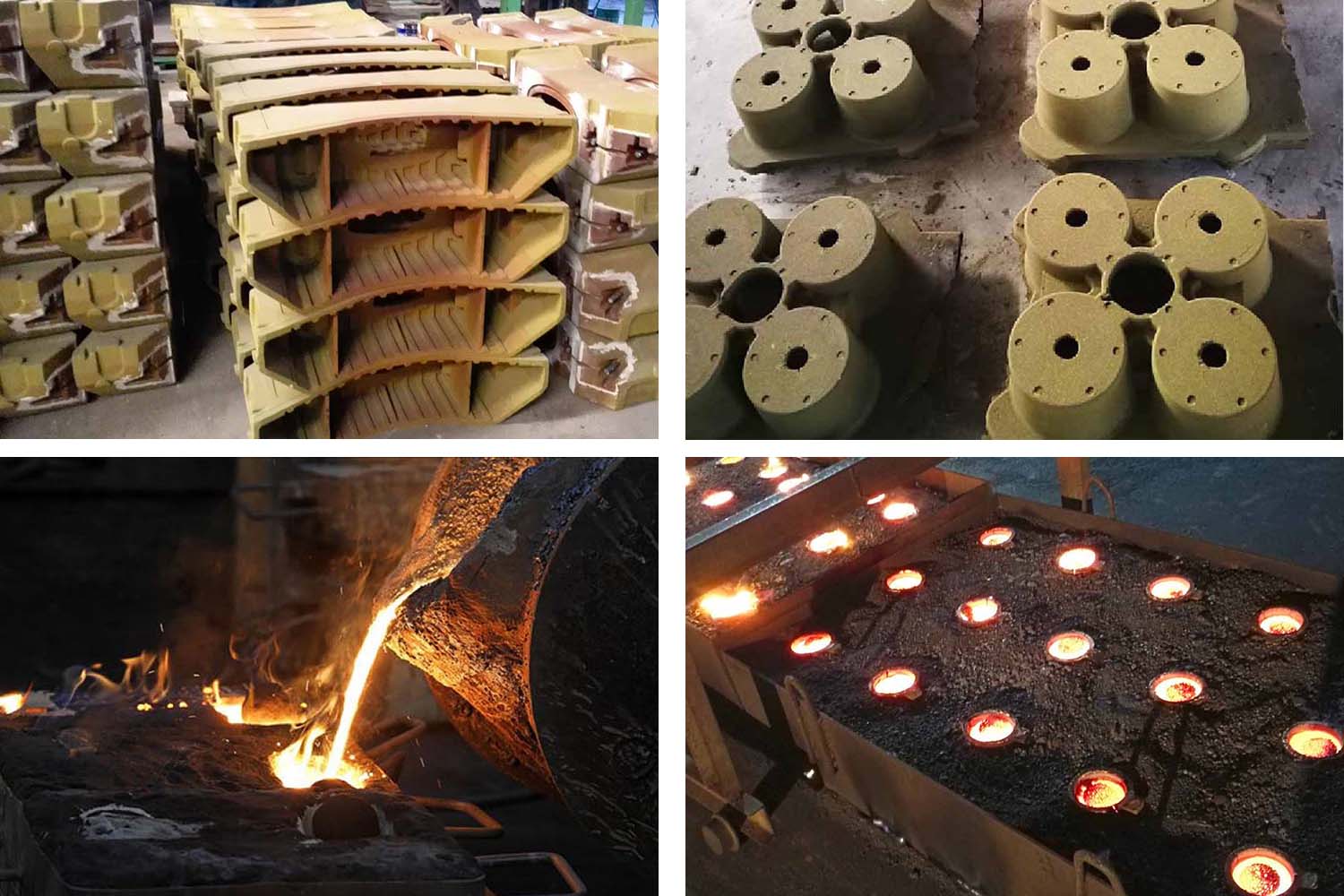 Equivalent Grade of Grey Cast Iron

AISI
W-stoff
DIN
BS
SS
AFNOR
U.N.E. / I.H.A.
JIS
UNI

A48-20B

0.6010

GG-10

Grade 100

0110-00

-

-

FC 100

G 10

A48-25B

0.6015

GG-15

Grade 150

0115-00

Ft 15 D

FG 15

FC 150

G 15

A48-30B

0.6020

GG-20

Grade 200

0120-00

Ft 20 D

FG 20

FC 200

G 20

A48-40B

0.6025

GG-25

Grade 250

0125-00

Ft 25 D

FG 25

FC 250

G 25

A48-45B

0.6030

GG-30

Grade 300

0130-00

Ft 30 D

FG 30

FC 300

G 30

A48-50B

0.6035

GG-35

Grade 350

0135-00

Ft 35 D

FG 35

FC 350

G 35

A48-60B

0.6040

GG-40

Grade 400

0140-00

Ft 40 D

-

FC 40

-

32510

GTS-35

B340/12

0815-00

MN 35-10

-

FCMW 330

-

A220-40010

0.8145

GTS-45

P440/7

0852-00

MN 450

-

FCMP 440/490

GMN 45

A220-50005

0.8155

GTS-55-04

P510/4

0854-00

MP 50-5

-

FCMP 490

GMN 55

A220-70003

0.8165

GTS-65-02

P570/3

0856-00

MN 650-3

-

FCMP 590

GMN 65

A220-70003

-

GTS-65

P570/3

0858

MN 60-3

-

FCMP 540

-

A220-80002

0.8170

GTS-70-02

P690/2

0862-00

MN 700-2

-

FCMP 690

GMN 70
Resin Coated Sand Casting Metal and Alloys

Metal & Alloys

Popular Grade

Gray Cast Iron

GG10~GG40; GJL-100 ~ GJL-350;

Ductile (Nodular) Cast Iron

GGG40 ~ GGG80; GJS-400-18, GJS-40-15, GJS-450-10, GJS-500-7, GJS-600-3, GJS-700-2, GJS-800-2

Austempered Ductile Iron (ADI)

EN-GJS-800-8, EN-GJS-1000-5, EN-GJS-1200-2

Carbon Steel

C20, C25, C30, C45

Alloy Steel

20Mn, 45Mn, ZG20Cr, 40Cr, 20Mn5, 16CrMo4, 42CrMo,




40CrV, 20CrNiMo, GCr15, 9Mn2V

Stainless Steel

Ferritic Stainless Steel, Martensitic Stainless Steel, Austenitic Stainless Steel, Precipitation Hardening Stainless Steel, Duplex Stainless Steel

Aluminium Alloys

ASTM A356, ASTM A413, ASTM A360

Brass / Copper-based Alloys

C21000, C23000, C27000, C34500, C37710, C86500, C87600, C87400, C87800, C52100, C51100

Standard: ASTM, SAE, AISI, GOST, DIN, EN, ISO, and GB