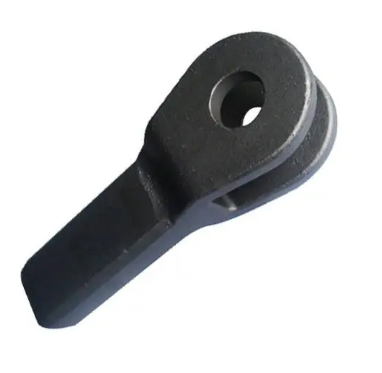 DUCTILE CAST IRON SAND CASTINGS
Item specifics
Cast Metal

Ductile Cast Iron
Casting Process

Sand Casting
Surface Treatment

Shot Blasting
Heat Treatment

Annealing
Description
OEM custom ductile cast iron sand castings are produced by sand casting process with turn-key services and CNC machining services.
Ductile cast iron, which is represent a group of cast iron, also called nodular iron. Nodular cast iron obtains nodular graphite through spheroidization and inoculation treatment, which effectively improves the mechanical properties of the casting parts, especially the plasticity and toughness, so as to obtain higher strength than carbon steel.
Ductile iron is not a single material but is part of a group of materials which can be produced to have a wide range of properties through control of the microstructure. The common defining characteristic of this group of materials is the shape of the graphite. In ductile irons, the graphite is in the form of nodules rather than flakes as it is in grey iron. The sharp shape of the flakes of graphite create stress concentration points within the metal matrix and the rounded shape of the nodules less so, thus inhibiting the creation of cracks and providing the enhanced ductility that gives the alloy its name.
Nodular cast iron has rapidly developed into a cast iron material second only to gray cast iron and widely used. The so-called "substituting iron for steel" mainly refers to ductile iron. Ductile iron is often used to produce parts for crankshafts and camshafts for automobiles, tractors, and internal combustion engines, as well as medium-pressure valves for general machinery.
▶ Raw Materials Available at Ductile Iron Foundry of OBT
• Gray Iron: GJL-100, GJL-150, GJL-200, GJL-250, GJL-300, GJL-350
• Ductile Iron: GJS-400-18, GJS-40-15, GJS-450-10, GJS-500-7, GJS-600-3, GJS-700-2, GJS-800-2
• Aluminium and Their Alloys
• Other Materials and Standards on request
▶ Capabilities of Sand Casting moulded by hand:
• Max Size: 1,500 mm × 1000 mm × 500 mm
• Weight Range: 0.5 kg - 500 kg
• Annual Capacity: 5,000 tons - 6,000 tons
• Tolerances: On Request.
▶ Capabilities of Sand Casting by Automatic Molding Machines:
• Max Size: 1,000 mm × 800 mm × 500 mm
• Weight Range: 0.5 kg - 500 kg
• Annual Capacity: 8,000 tons - 10,000 tons
• Tolerances: On Request.
▶ Main Production Procedure
• Patterns & Tooling Design → Making Patterns → Moulding Process → Chemical Composition Analysis → Melting & Pouring → Cleaning, Grinding & Shot Blasting → Post Processing or Packing for Shipment
▶ Sand Casting Inspection Capabilities
• Spectrographic and manual quantitative analysis
• Metallographic analysis
• Brinell, Rockwell and Vickers hardness inspection
• Mechanical property analysis
• Low and normal temperature impact testing
• Cleanliness inspection
• UT, MT and RT inspection
Name of Cast Iron

Cast Iron Grade

Standard

Grey Cast Iron

EN-GJL-150

EN 1561

EN-GJL-200

EN-GJL-250

EN-GJL-300

EN-GJL-350

Ductile Cast Iron

EN-GJS-350-22/LT

EN 1563

EN-GJS-400-18/LT

EN-GJS-400-15

EN-GJS-450-10

EN-GJS-500-7

EN-GJS-550-5

EN-GJS-600-3

N-GJS-700-2

EN-GJS-800-2

Austempered Ductile Iron

EN-GJS-800-8

EN 1564

EN-GJS-1000-5

EN-GJS-1200-2

SiMo Cast Iron

EN-GJS-SiMo 40-6

EN-GJS-SiMo 50-6