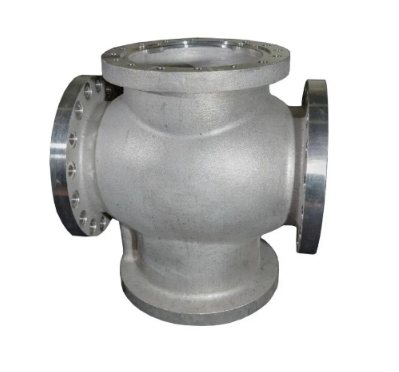 STEEL SAND CASTING MANUFACTURER
Item specifics
Material

Cast Alloy Steel
Casting Process

Sand Casting + CNC Machining
Description
Steel Sand Casting Manufacturer from China with Custom and CNC Machining Services.
Cast steel refers to the steel used for the manufacture of steel castings. Cast steel should be used when the strength of the casting is relatively high and the use of cast iron cannot meet the requirements. However, the fluidity of molten steel of cast steel is not as good as that of cast iron, so the thickness of the pouring structure should not be too small and the shape should not be too complicated. When the silicon content is controlled at the upper limit, the fluidity of molten steel can be improved.
Raw Materials Available for Sand Casting
• Casting tool steel. Cast tool steel can be divided into casting tool steel and casting mold steel.
• Casting special steel. Casting special steel can be divided into cast stainless steel, cast heat-resistant steel, cast wear-resistant steel, cast nickel-based alloy, etc.
• Cast steel for engineering and structure. Cast steel for engineering and structure can be divided into cast carbon structural steel and cast alloy structural steel.
• Cast alloy steel. It can be divided into cast low alloy steel, cast medium alloy steel and cast high alloy steel.
• Gray Cast Iron: GJL-100, GJL-150, GJL-200, GJL-250, GJL-300, GJL-350
• Ductile Cast Iron: GJS-400-18, GJS-40-15, GJS-450-10, GJS-500-7, GJS-600-3, GJS-700-2, GJS-800-2
• Aluminium and Their Alloys
• Other Materials and Standards on request
Capabilities of Sand Casting:
• Max Size (by automatic molding line): 1,500 mm × 1000 mm × 500 mm
• Max Size (by handle molding): 1,000 mm × 800 mm × 500 mm
• Weight Range: 0.5 kg - 500 kg
• Annual Capacity: 7,000 tons - 8,000 tons
• Tolerances: On Request.
Main Production Procedure
Patterns & Tooling Design → Making Patterns → Moulding Process → Chemical Composition Analysis → Melting & Pouring → Cleaning, Grinding & Shot Blasting → Post Processing or Packing for Shipment.
Sand Casting Inspection Capabilities
• Spectrographic and manual quantitative analysis
• Metallographic analysis
• Brinell, Rockwell and Vickers hardness inspection
• Mechanical property analysis
• Low and normal temperature impact testing
• Cleanliness inspection
• UT, MT and RT inspection
Post-Casting Process
• Deburring & Cleaning
• Shot Blasting / Sand Peening
• Heat Treatment: Normalization, Quench, Tempering, Carburization, Nitriding
• Surface Treatment: Passivation, Andonizing, Electroplating, Hot Zinc Plating, Zinc Plating, Nickel Plating, Polishing, Electro-Polishing, Painting, GeoMet, Zintec
• CNC Precision Machining: Turning, Milling, Lathing, Drilling, Honing, Grinding,
General Commerial Terms
• Main work flow: Inquiry & Quotation → Confirming Details / Cost Reduction Proposals → Tooling Development → Trial Casting → Samples Approval → Trial Order → Mass Production → Continuous Order Proceeding
• Lead time: Estimatedly 15-25 days for tooling development and estimatedly 20 days for mass production.
• Payment Terms: To be negotiated.
• Payment methods: T/T, L/C, West Union, Paypal.