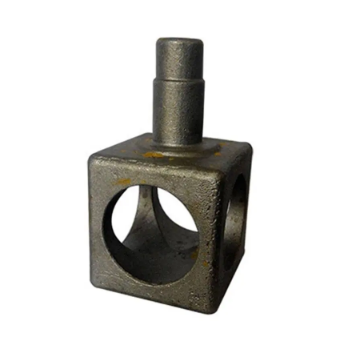 WEAR RESISTANT ALLOY STEEL CASTING PRODUCT
Item specifics
Material

Wear-resistant Alloy Steel, Mn , Cr Alloy Steel,
Casting Process

Sand Casting + CNC Machining
CNC Machining

Available
OEM Custom Service

Available
Heat Treatment

Annealing, Quenching, Normalizing, Carburizing
Description
China wear resistant alloy steel casting products with OEM custom and CNC machining services.
Wear-resistant alloy steel sand castings are the casting parts produced by sand casting process made of wear-resistant alloy steel. At OBT Foundry, the main sand casting processes we could use for wear-resistant alloy steel are green sand casting, resin coated sand casting, no-bake sand mold casting, lost foam casting, vacuum casting and investment casting. The heat treatment, surface treatment and CNC machining are also available at our factory as per your drawings and requirements.
Steel castings are classified according to their chemical composition and are divided into cast carbon steel parts and cast alloy steel parts. According to the classification of use characteristics, steel castings can be divided into engineering and structural cast steel (carbon alloy steel and alloy structural steel), cast special steel parts (corrosion-resistant stainless steel, heat-resistant steel, wear-resistant steel, nickel-based alloy ) and casting tool steel (tool steel, die steel). In the foundry industry, the materials used for steel castings are generally subdivided as follows:
1) Cast Carbon Steel: cast low carbon steel, cast medium carbon steel, cast high carbon steel (high strength carbon steel)
2) Medium-alloy Steel and Low-alloy Steel for Casting: cast manganese steel, cast silico-manganese steel, cast manganese-molybdenum steel, cast manganese-molybdenum-vanadium copper steel, cast chromium steel, chromium-molybdenum cast steel, chromium-manganese-silicon cast steel, chromium-manganese Molybdenum cast steel, chromium molybdenum vanadium cast steel, chromium copper cast steel, molybdenum cast steel, chromium nickel molybdenum cast steel, etc. Different chemical elements can play a different role in improving the corresponding performance. In the following articles, we will introduce the properties of related alloy steels and the roles played by chemical elements one by one.
3) Corrosion-resistant Stainless Steel: ferritic stainless steel, martensitic stainless steel, austenitic stainless steel and austenitic-ferritic duplex stainless steel.
4) Heat-resistant Steel: high chromium steel, high chromium nickel steel and high nickel chromium steel.
5) Wear-resistant Cast Steel: wear-resistant manganese steel, wear-resistant chromium steel
6) Casting Special Steel and Professional Steel: low-temperature cast steel, foundry tool steel (die steel), pressure cast steel, precision casting steel, centrifugal cast cast steel pipe.
Capabilities for Casting at OBT

Casting Process

Annual Capacity / Tons

Main Materials

Casting Weight

Dimensional Tolerance Grade (ISO 8062)

Heat Treatment

Green Sand Casting

6000

Gray Cast Iron, Ductile Cast Iron, Cast Al, Brass, Cast Steel, Stainless Steel

0.3 kg to 200 kg

CT11~CT14

Normalization, Quenching, Tempering, Annealing, Carburization

Resin Coated Sand Casting (Shell Casting)

0.66 lbs to 440 lbs

CT8~CT12

Lost Wax Investment Casting

Water Glass Casting

3000

Stainless Steel, Carbon Steel, Alloy Steel, Brass, Aluminium, Duplex Stainless Steel, Cast Iron

0.1 kg to 50 kg

CT5~CT9

0.22 lbs to 110 lbs

Silica Sol Casting

1000

0.05 kg to 50 kg

CT4~CT6

0.11 lbs to 110 lbs

Lost Foam Casting

4000

Gray Iron, Ductile Iron, Alloy, Carbon Steel, Stainless Steel, Brass, Al

10 kg to 300 kg

CT8~CT12

22 lbs to 660 lbs

Vacuum Casting

3000

Gray Iron, Ductile Iron, Alloy Steel, Carbon Steel, Stainless Steel

10 kg to 300 kg

CT8~CT12

22 lbs to 660 lbs

High Pressure Die Casting

500

Aluminium Alloys, Zinc Alloys

0.1 kg to 50 kg

CT4~CT7

0.22 lbs to 110 lbs
Green sand is a kind of moulding sand with no need to dry and takes the bentonite as binder. The basic feature of green sand is that it does not need to be dried and solidified, while it has a certain wet strength. Although the strength is low, it has better retreatability and is easy to shake off; moreover, the green sand casting process has several advantages of high moulding efficiency, short production cycle, low material cost and it is easy to organize flow production. However, because the sand mold is not dried, moisture vaporization and migration appear on the surface of the sand mold during casting, which makes the casting prone to have blowholes, sand inclusions, bulging sand, sticky sand and other casting defects.
In order to give full play to the advantages of green sand molding and improve the quality of castings, it is necessary to maintain stable molding sand performance, compact and uniform sand molds and reasonable casting process during the production process. Therefore, the development of green sand molding technology has always been closely linked to the development of molding machine and molding technology. Recently, green sand mechanized moulding has developed from ordinary machine moulding to high-density machine moulding. The productivity of moulding, the compactness of sand molds, and the dimensional accuracy of castings continue to increase, while the surface roughness value of castings continues to decrease.
CNC Precision Machining Capabilities

Facilities

Quantity

Size Range

Annual Capacity

General Accuracy

Vertical Machining Center (VMC)

48 sets

1500mm × 1000mm × 800mm

6000 tonn or 300000 pieces

±0.005

Horizontal Machining Center (VMC)

12 sets

1200mm × 800mm × 600mm

2000 tons or 100000 pieces

±0.005

CNC Machine

60 sets

Max turning dia. φ600mm

5000 tons or 600000 pieces
Available Ferrous Metal Materials for Precision Machining Components:
• Cast Iron including gray iron and ductile iron
• Carbon Steel from low carbon steel, medium carbon steel and high carbon steel.
• Steel Alloys from standard grades to special grades on request.
• Aluminum and their alloys
• Brass and Copper
• Zinc and their alloys
• Stainless Steel, Duplex, Corrosion-resistant Steel, High-temperature Steel.
The precision machining workshop at OBT takes care probably the most important step in the supply chain after casting. State-of-the-art vertical and horizontal CNC machining centers and other CNC machines could make sure the accuracy of the castings and guarantee the machined castings are finished on time. All machines are well-organized and taken into production at high production effeciency and good cost-effective mothods. If needed, all the machined dimensions could be measured by the CMM and the related reports could be issued as per customer's requirements.

Applications of Our Custom Casting and Machining Parts:
1. Automobile Parts: Brake Disc, Connect Rod, Drive Axle, Drive Shaft, Control Arm, Gearbox Housing, Gearbox Cover, Clutch Cover, Clutch Housing, Wheels, Filter Housing, C.V. Joint Housing, Lock Hook.
2. Truck Parts: Rocker Arms, Transmission Gearbox, Drive Axles, Gear Housing, Gear Cover, Towing Eye, Connect Rod, Engine Block, Engine Cover, Joint Bolt, Power Takeoff, Crankshaft, Camshaft, Oil Pan.
3. Hydraulic Parts: Hydraulic Cylinder, Hydraulic Pump, Gerotor Housing, Vane, Bushing, Hydraulic Tank, Hydraulic Cylinder Head, Hydraulic Cylinder Triangle Bracket.
4. Agricultural Machinery and Tractor Parts: Gear Housing, Gear Cover, Connect Rod, Torque Rod, Engine Block, Engine Cover, Oil Pump Housing, Bracket, Hanger, Hook, Bracket.
5. Rail Trains and Freight Cars: Shock Absorber Housing, Shock Absorber Cover, Draft Gear Housing, Draft Gear Cover, Wedge and Cone, Wheels, Brake Systems, Handles, Guids.
6. Construction Machinery Parts: Gear, Bearing Seat, Gear Pump, Gearbox Housing, Gearbox Cover, Flange, Bushing, Boom Cylinder, Support Bracket, Hydraulic Tank, Bucket Teeth, Bucket.
7. Logistics Equipment Parts: Wheels, Caster, Bracket, Hydraulic Cylinder, Forklift Spare Parts, Lock Case,
8. Valve and Pump Parts: Valve Body (Housing), Butterfly Valve Disc, Ball Valve Housing, Flange, Connector, Camlock, Open Impeller, Close Impeller, Pump Housing (Body), Pump Cover.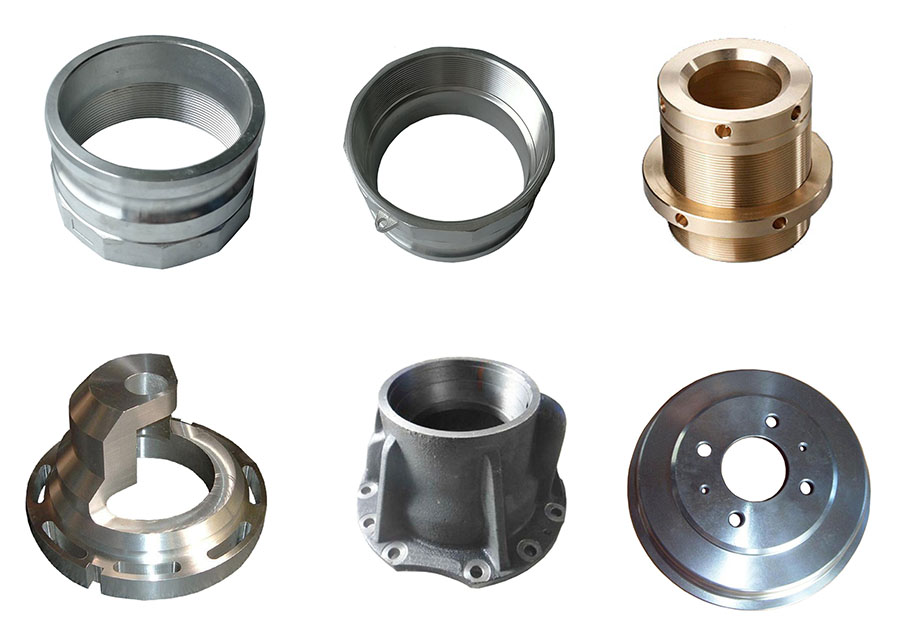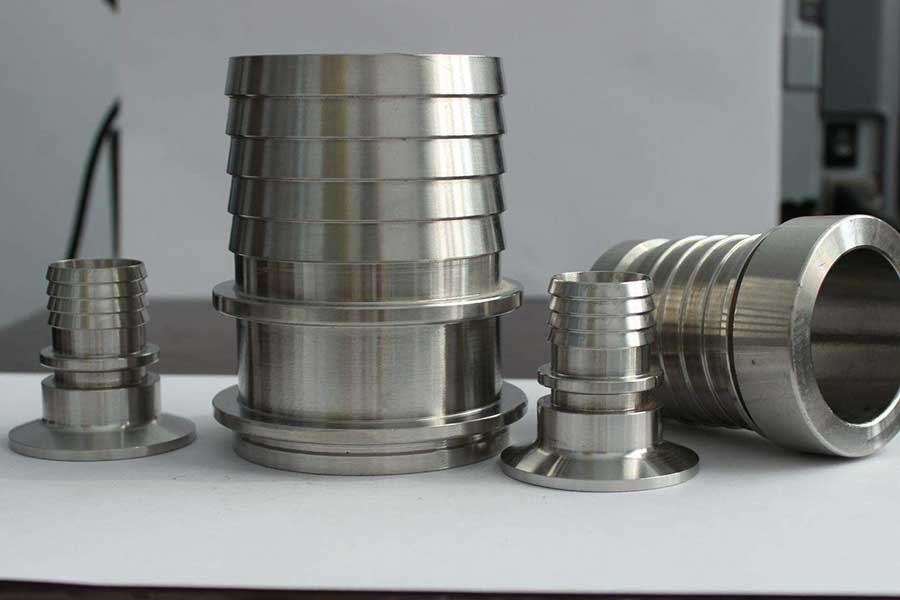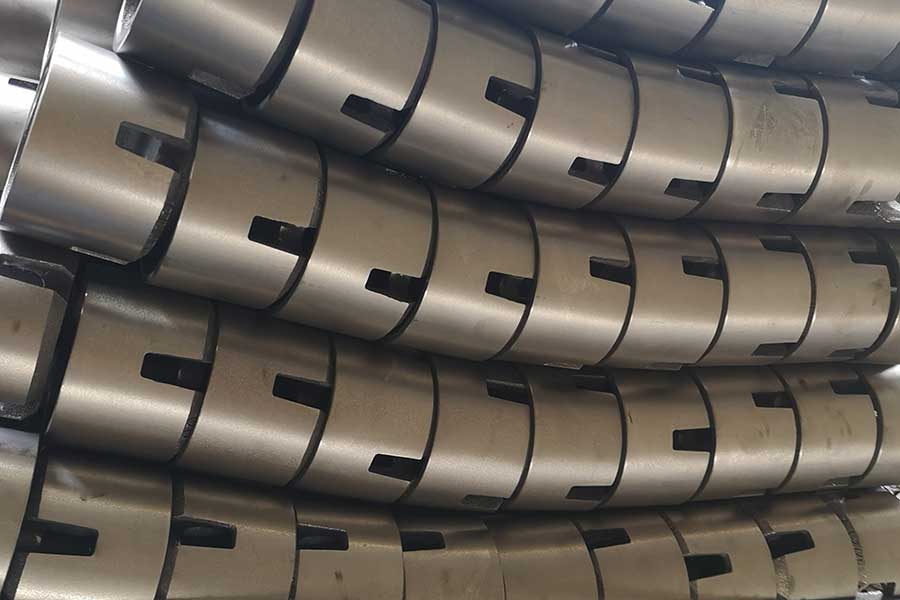 Ductile Iron Machining Products