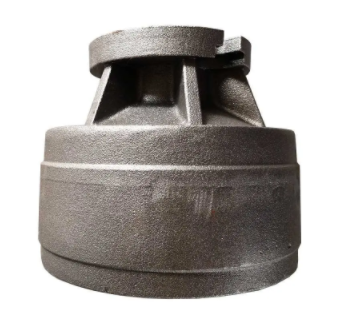 Item specifics
Casting Metals

Gray Cast Iron
Casting Manufacturing

Vacuum Casting
Vacuum Casting

Annealing
Description
Gray iron vacuum casting from China foundry with OEM custom services.
Vacuum castings are the metal parts that are produced by the vacuum casting process. They are different from typical investment castings due to the technique that is used to create these metal parts. The process begins by placing a two-piece mold in a vacuum chamber. The vacuum then draws the molten metal into the mold. Finally, the casting is solidified in an oven and the mold is removed in order to release the final castings.
▶ Vacuum Casting Materials:
• Carbon Steel: Low Carbon Steel, Medium Carbon Steel and High Carbon Steel from AISI 1020 to AISI 1060.
• Cast Steel Alloys: ZG20SiMn, ZG30SiMn, ZG30CrMo, ZG35CrMo, ZG35SiMn, ZG35CrMnSi, ZG40Mn, ZG40Cr, ZG42Cr, ZG42CrMo...etc on request.
• Stainless Steel: AISI 304, AISI 304L, AISI 316, AISI 316L and other stainless steel grade.
• Brass & Copper.
• Other Materials and Standards on request
▶ V Process Casting Capacities:
• Max Size: 1,000 mm × 800 mm × 500 mm
• Weight Range: 0.5 kg - 100 kg
• Annual Capacity: 2,000 tons
• Tolerances: On Request.
▶ Inspecting V-Process Casting Components:
• Spectrographic and manual quantitative analysis
• Metallographic analysis
• Brinell, Rockwell and Vickers hardness inspection
• Mechanical property analysis
• Low and normal temperature impact testing
• Cleanliness inspection
• UT, MT and RT inspection
▶ Vacuum Casting Procedures:
• The pattern is covered tightly by a thin sheet of plastic.
• A flask is placed over the coated pattern and is filled with dry sand without bind.
• The second flak is then placed on top of the sand, and a vacuum draws the sand so that the pattern can be tight and withdrawn. Both halves of the mold are made and assembled in this way.
• During pouring, the mold remains under a vacuum but the casting cavity does not.
• When the metal has solidified, the vacuum is turned off and the sand falls away, releasing the casting.
• Vacuum molding produces casting with high-quality detail and dimensional accuracy.
• It is especially well suited for large, relatively flat castings.
▶ Post-Casting Process
• Deburring & Cleaning
• Shot Blasting / Sand Peening
• Heat Treatment: Normalization, Quench, Tempering, Carburization, Nitriding
• Surface Treatment: Passivation, Andonizing, Electroplating, Hot Zinc Plating, Zinc Plating, Nickel Plating, Polishing, Electro-Polishing, Painting, GeoMet, Zintec.
• CNC Precision Machining: Turning, Milling, Lathing, Drilling, Honing, Grinding.
▶ Why You Choose RMC for V (Vacuum) Process Casting Components?
• Easy recovery of the sand because the binders are not used
• Sand does not require mechanical reconditioning.
• Good air permeability because there is no water is mixed with sand, therefore less casting defects.
• More suitable for large scale castings
• Cost effective, especially for large castings.