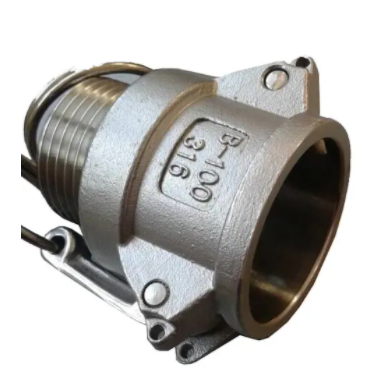 B-100 CAMLOCK OF STAINLESS STEEL 316
Item specifics
Casting Metals

Stainless Steel AISI 316 / CF8M
Casting Manufacturing

Investment Casting + CNC Machining
Heat Treatment

Annealing + Solution
Description
Custom or standard stainless steel 316 camlock by investment casting process and CNC machining.
Stainless steel has a minimum chromium content of 10.5%, making it more resistant to corrosive liquid environments and to oxidation. However, this is not absolute. Stainless steel investment castings are "corrosion-resistant" when used in liquid environments and vapors below 1200°F (650°C) and "heat-resistant" when used above this temperature. AISI 316 is an austenitic stainless steel which is widely used for investment castings.
Austenitic stainless steel should be solid-solution treated before use, so as to maximize the solid solution of various precipitates such as carbides in the steel into the austenite matrix, while also homogenizing the structure and eliminating stress, so as to ensure excellent Corrosion resistance and mechanical properties. The correct solution treatment system is water cooling after heating at 1050~1150℃ (the thin parts can also be air cooled). The solution treatment temperature depends on the degree of alloying of the steel: Molybdenum-free or low-molybdenum steel grades should be lower (≤1100℃), and higher alloyed grades such as 00Cr20Ni18Mo-6CuN, 00Cr25Ni22Mo2N, etc. should be higher (1080~1150) ℃).
Capabilities of Investment Casting Foundry:
• Max Size: 1,000 mm × 800 mm × 500 mm

• Weight Range: 0.5 kg - 100 kg

• Annual Capacity: 2,000 tons

• Bond Materials for Shell Building: Silica Sol, Water Glass and their mixtures.

• Tolerances: On Request.
Advantages of Investment Casting Components:
- Excellent and smooth surface finish

- Tight dimensional tolerances.

- Complex and intricate shapes with design flexibility

- Capability to cast thin walls therefore a lighter casting component

- Wide selection of cast metals and alloys (ferrous and non-ferrous)

- Draft is not required in the molds design.

- Reduce the need for secondary machining.

- Low material waste.
Materials for

Investment Casting

Process at OBT Foundry

Category

China Grade

US Grade

Germany Grade

Ferritic Stainless Steel

1Cr17, 022Cr12, 10Cr17,

430, 431, 446, CA-15, CA6N, CA6NM

1.4000, 1.4005, 1.4008, 1.4016, GX22CrNi17, GX4CrNi13-4

Martensitic Stainless Steel

1Cr13, 2Cr13, 3Cr13, 4Cr13,

410, 420, 430, 440B, 440C

1.4021, 1.4027, 1.4028, 1.4057, 1.4059, 1.4104, 1.4112, 1.4116, 1.4120, 1.4122, 1.4125

Austenitic stainless steel

06Cr19Ni10, 022Cr19Ni10,




06Cr25Ni20, 022Cr17Ni12Mo2, 03Cr18Ni16Mo5

302, 303, 304, 304L, 316, 316L, 329, CF3, CF3M, CF8, CF8M, CN7M, CN3MN

1.3960, 1.4301, 1.4305, 1.4306, 1.4308, 1.4313, 1.4321, 1.4401, 1.4403, 1.4404, 1.4405, 1.4406, 1.4408, 1.4409, 1.4435, 1.4436, 1.4539, 1.4550, 1.4552, 1.4581,




1.4582, 1.4584,

Precipitation Hardening Stainless Steel

05Cr15Ni5Cu4Nb, 05Cr17Ni4Cu4Nb

630, 634, 17-4PH, 15-5PH, CB7Cu-1

1.4542

Duplex Stainless Steel

022Cr22Ni5Mo3N, 022Cr25Ni6Mo2N

A 890 1C, A 890 1A, A 890 3A, A 890 4A, A 890 5A,




A 995 1B, A 995 4A, A 995 5A, 2205, 2507

1.4460, 1.4462, 1.4468, 1.4469, 1.4517, 1.4770

High Mn Steel

ZGMn13-1, ZGMn13-3, ZGMn13-5

B2, B3, B4

1.3802, 1.3966, 1.3301, 1.3302

Tool Steel

Cr12

A5, H12, S5

1.2344, 1.3343, 1.4528, GXCrMo17, X210Cr13, GX162CrMoV12

Heat Resistant Steel

20Cr25Ni20, 16Cr23Ni13,




45Cr14Ni14W2Mo

309, 310, CK20, CH20, HK30

1.4826, 1.4828, 1.4855, 1.4865

Nickle-base Alloy

HASTELLY-C, HASTELLY-X, SUPPER22H, CW-2M, CW-6M, CW-12MW, CX-2MW, HX(66Ni-17Cr), MRE-2, NA-22H, NW-22, M30C, M-35-1, INCOLOY600,




INCOLOY625

2.4815, 2.4879, 2.4680

Aluminum




Alloy

ZL101, ZL102, ZL104

ASTM A356, ASTM A413, ASTM A360

G-AlSi7Mg, G-Al12

Copper Alloy

H96, H85, H65, HPb63-3,




HPb59-1, QSn6.5-0.1, QSn7-0.2

C21000, C23000, C27000, C34500, C37710, C86500, C87600, C87400, C87800, C52100, C51100

CuZn5, CuZn15, CuZn35, CuZn36Pb3, CuZn40Pb2, CuSn10P1, CuSn5ZnPb, CuSn5Zn5Pb5

Cobalt-base Alloy

UMC50, 670, Grade 31

2.4778
INVESTMENT CASTING TOLERANCES

Inches

Millimeters

Dimension

Tolerance

Dimension

Tolerance

Up to 0.500

±.004"

Up to 12.0

± 0.10mm

0.500 to 1.000"

±.006"

12.0 to 25.0

± 0.15mm

1.000 to 1.500"

±.008"

25.0 to 37.0

± 0.20mm

1.500 to 2.000"

±.010"

37.0 to 50.0

± 0.25mm

2.000 to 2.500"

±.012"

50.0 to 62.0

± 0.30mm

2.500 to 3.500"

±.014"

62.0 to 87.0

± 0.35mm

3.500 to 5.000"

±.017"

87.0 to 125.0

± 0.40mm

5.000 to 7.500"

±.020"

125.0 to190.0

± 0.50mm

7.500 to 10.000"

±.022"

190.0 to 250.0

± 0.57mm

10.000 to 12.500"

±.025"

250.0 to 312.0

± 0.60mm

12.500 to 15.000

±.028"

312.0 to 375.0

± 0.70mm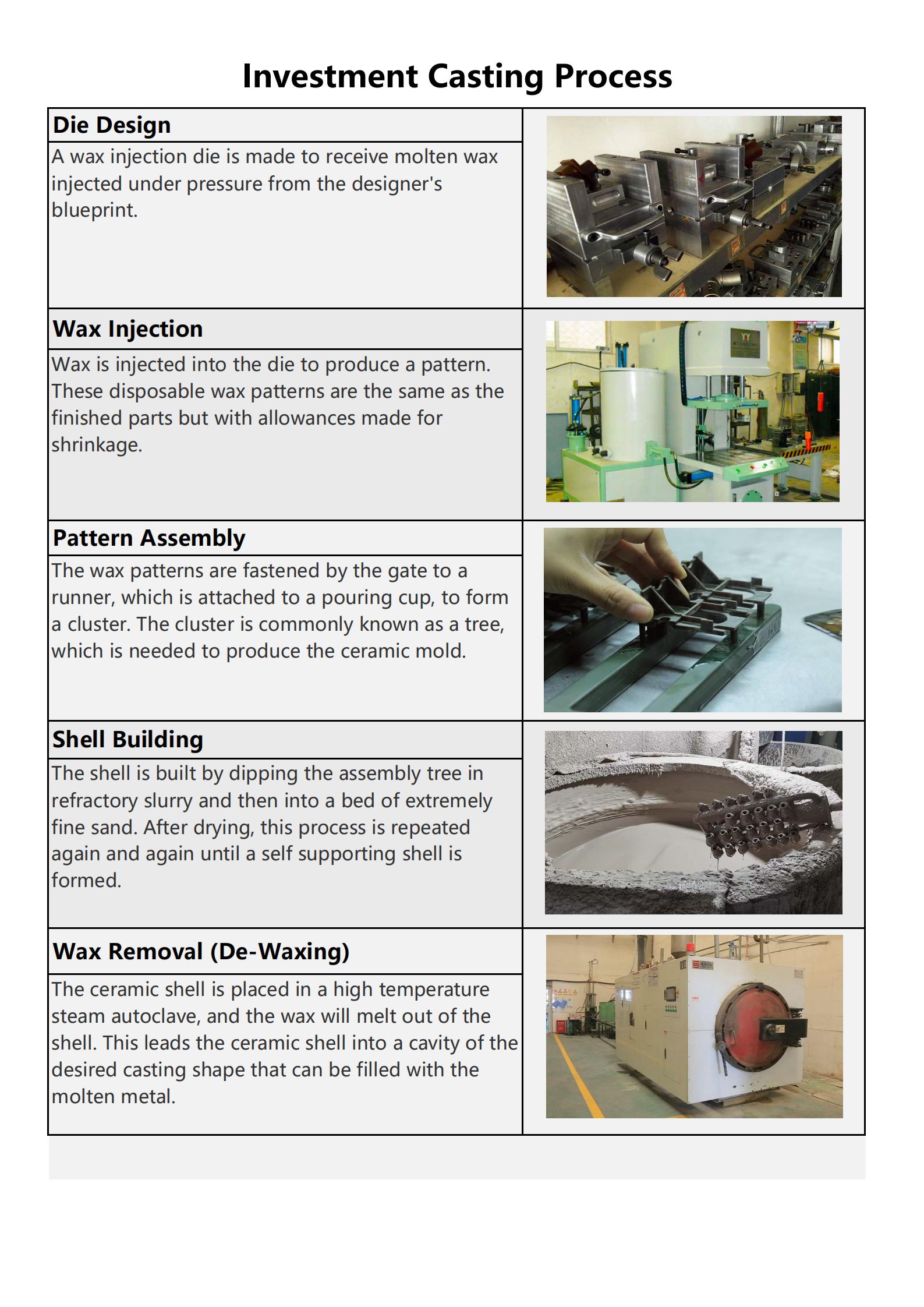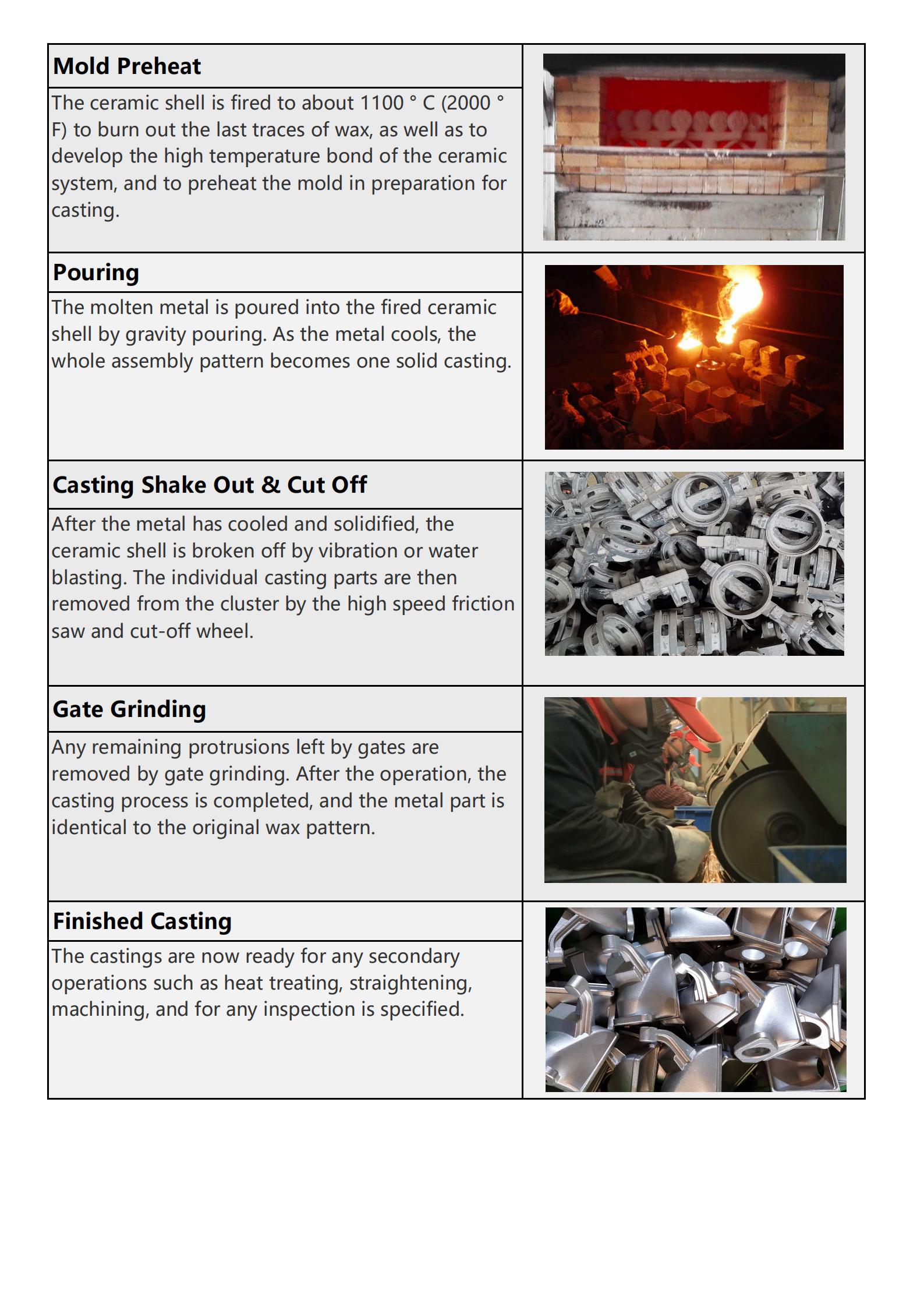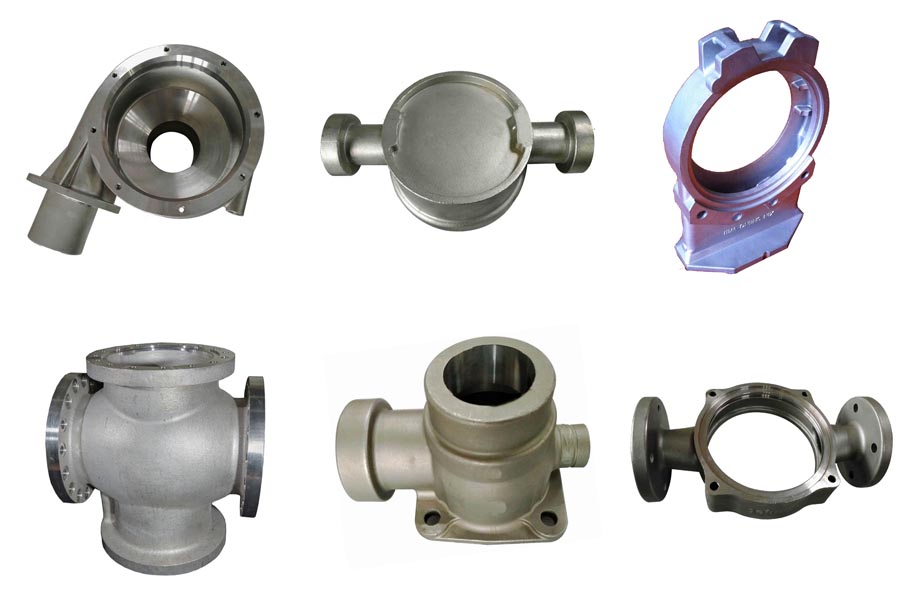 Stainless Steel Castings by Investment Casting