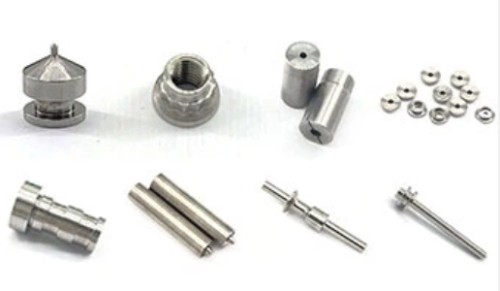 Wholesale High Quality Aluminum Stainless Steel 5 Axis Milling Turning Drilling Fabrication Cnc Machining Services
Item specifics
Material

Metal Custom
OEM & ODM Services

Available
Weight

Custom
Tolerance

0.004mm
Smooth surface roughness

Ra0.6-3.2
Description
5-axis CNC machined parts are parts that are machined using 5-axis CNC machine tools. Compared with traditional 3-axis CNC machine tools, 5-axis machine tools can allow parts to be processed at more angles and planes, allowing for more complex geometries and higher accuracy. Here is some introduction to 5-axis CNC machined parts:
1. Multi-axis motion: A 5-axis CNC machine tool can perform multi-axis motion through two additional rotating axes such as a rotary table and a spindle head on the basis of the three linear axes of X, Y, and Z. This multi-axis motion enables the cutting tool to approach the workpiece in multiple directions, making it easier to achieve complex shapes.
2. Complex geometries: 5-axis CNC machining can be used to produce parts with complex geometries, such as spiral grooves, blades, curved surfaces, etc. This is critical in areas such as aerospace, medical, automotive and mold manufacturing.
3. Higher precision: Multi-axis motion allows more processing flexibility, thereby improving processing accuracy. This is critical for industries that require a high degree of precision, such as aerospace and medical device manufacturing.
4. Reduced tooling requirements: 5-axis machining can reduce the need for special tooling required to secure the workpiece, thereby reducing manufacturing costs.
5. Shorten delivery time: 5-axis CNC machining can complete the processing of multiple surfaces with one clamping, reducing the number of re-clamping of workpieces and speeding up production.
6. Automation: Many 5-axis CNC machine tools are equipped with automatic tool changing systems, making the production process more automated and reducing operator intervention.
5-axis CNC machined parts have a wide range of applications in manufacturing, with the advantage of producing high-precision, complex-geometry parts. This is crucial for demanding applications in modern manufacturing.