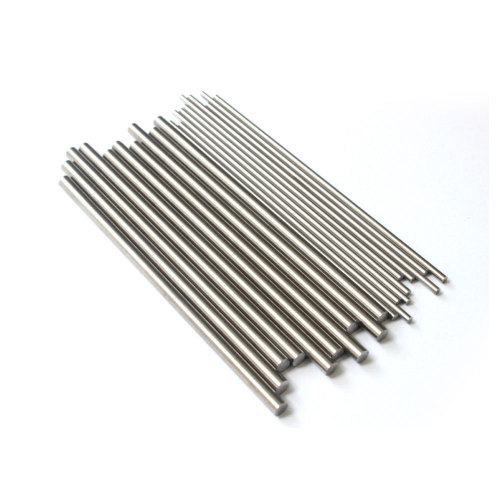 Tungsten Rod China Foundry Material Manufacturer OBT Company
Item specifics
Size

Ф2.0~100mm
Surface

Black, Ground,Machined
Standard

GB/T 3459-2006
Description
1.Product introduction and application:
Tungsten rod is a rod-shaped product made of pure tungsten material, which has many excellent characteristics. The following are the main features and applications of tungsten rods:
Features:
High melting point: The melting point of tungsten is very high, about 3410°C, which enables tungsten rods to maintain stable performance at extremely high temperatures.
High Density: Tungsten has a very high density, one of the highest among all metals, which makes the tungsten rod have a good sense of quality and inertia.
High strength: Tungsten rods have high strength and hardness, and can withstand large loads and stresses.
Good corrosion resistance: Tungsten rods have good corrosion resistance to most acids, alkalis and corrosive gases.
application:
In the field of electronic devices: tungsten rods are often used in the manufacture of electrodes, resistors, vacuum electronic devices and light-emitting diodes (LEDs), etc.
Welding and cutting fields: Due to the high melting point and corrosion resistance of tungsten, tungsten rods are often used in welding electrodes and cutting electrodes, such as argon arc welding, plasma cutting, etc.
High-temperature heating field: Tungsten rods can be used to manufacture high-temperature heaters, furnaces and heating wires, which are suitable for heating and heat treatment in high-temperature environments.
Anti-radiation fields: Due to the high density and absorption capacity of tungsten, tungsten rods can be used in the manufacture of anti-radiation materials and equipment, such as nuclear energy, medicine, and aerospace.
In general, due to its high temperature stability, high density and good corrosion resistance, tungsten rods are widely used in the fields of electronic devices, welding, cutting, high temperature heating and radiation protection.
2.Specifications:
| | | | |
| --- | --- | --- | --- |
| | Specification | Surface | Standard |
| Size | Ф2.0~100mm | Black, Ground,Machined | GB/T 3459-2006 |