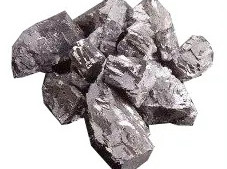 Ferro Vanadium China Foundry Material Manufacturer OBT Company
Item specifics
CAS

12604-58-9
Melting Point

1887 ℃
Boiling Point

3337 ℃
Description
1.Product introduction and application:
Ferrovanadium is an alloy material consisting of iron and vanadium. It has the following features and applications:
Features:
Enhanced strength: The addition of ferrovanadium can significantly increase the strength and hardness of steel, making it have better tensile strength and wear resistance.
Improve heat resistance: Ferrovanadium can improve the high temperature resistance of steel, so that it can maintain better stability and strength in high temperature environments.
Improve corrosion resistance: The addition of ferrovanadium can improve the corrosion resistance of steel, improve its corrosion resistance and prolong its service life.
Regulating grain refinement: Ferrovanadium plays a role in grain refinement in the process of iron and steel smelting, making the structure of steel more dense and uniform.
application:
Steel manufacturing: Ferrovanadium is often used in steel manufacturing as an alloy additive to improve the strength, hardness and heat resistance of steel. It is commonly used in construction, bridges, automobiles, machinery and other fields.
Stainless steel manufacturing: Ferrovanadium can be used as one of the alloying elements of stainless steel to improve the strength and corrosion resistance of stainless steel.
Battery material: Ferrovanadium can be used to make certain types of batteries, such as lithium vanadate batteries and iron vanadium batteries.
Metallurgical process: Ferrovanadium can be used as reducing agent and deoxidizer in metallurgical process, used to purify metal and improve the performance of alloy.
2.Specifications:
Grade

Chemical Composition

V

C

Si

P

S

AI

Mn

≥

≤

FeV80

78.0-82.0

0.15/0.20

1.5

0.06

0.05

1.5-2.0