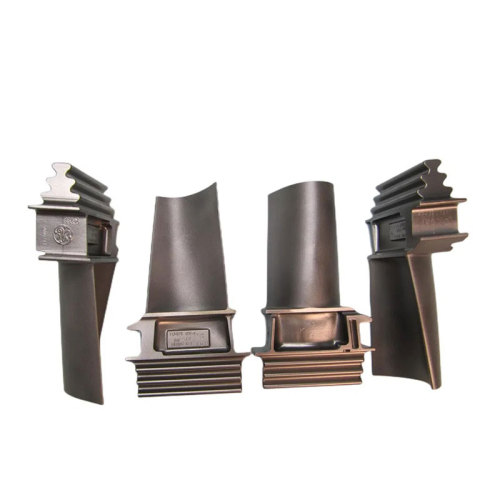 China Custom Inconel Alloy 6B GE turbine blades Nickel Alloy Titanium Casting OEM ODM
Item specifics
Material

Inconel Hastelloy Incoloy Monel
OEM & ODM Services

Available
Weight

Custom
Tolerance

0.004mm
Smooth surface roughness

Ra0.6-3.2
Description
General Electric's (GE) Turbine Wheel is one of the key components in a gas turbine or turbine. The turbine hub is the core component of rotating power devices and is used to drive generators, compressors, aircraft engines, etc. Here is some introduction about GE turbine hubs:
Application fields: GE's turbine hubs are widely used in different fields, including the power industry, aerospace, aircraft engines, oil and gas industry, etc. Different applications require different types of wheels, so GE manufactures a variety of wheel sizes to suit every need.
Design and Manufacturing: GE's turbine hubs are constructed from high-strength alloy materials to withstand high temperatures and high-speed rotational conditions. These wheels are designed with precise engineering calculations to ensure their performance under high pressure and temperature.
Performance Features: GE turbine hubs generally offer excellent resistance to wear, corrosion and high temperatures. They are designed to withstand high rotational forces and have good power transmission efficiency.
Maintenance and Replacement: Due to the critical nature of the hub, regular maintenance is essential to ensure the reliability and performance of your gas turbine or turbine. If the turbine hub is damaged or worn, it may need to be replaced to maintain proper operation of the equipment.
Market and Supply: As a leading global industrial and energy company, GE's turbine hub products are supplied globally and widely used. These products play an important role in many critical applications in different industries.
GE's turbine hubs are indispensable components in modern industry and energy and are critical to the efficient operation and reliability of a variety of equipment. Through continuous R&D and innovation, GE continues to provide high-performance wheels to meet evolving market needs.